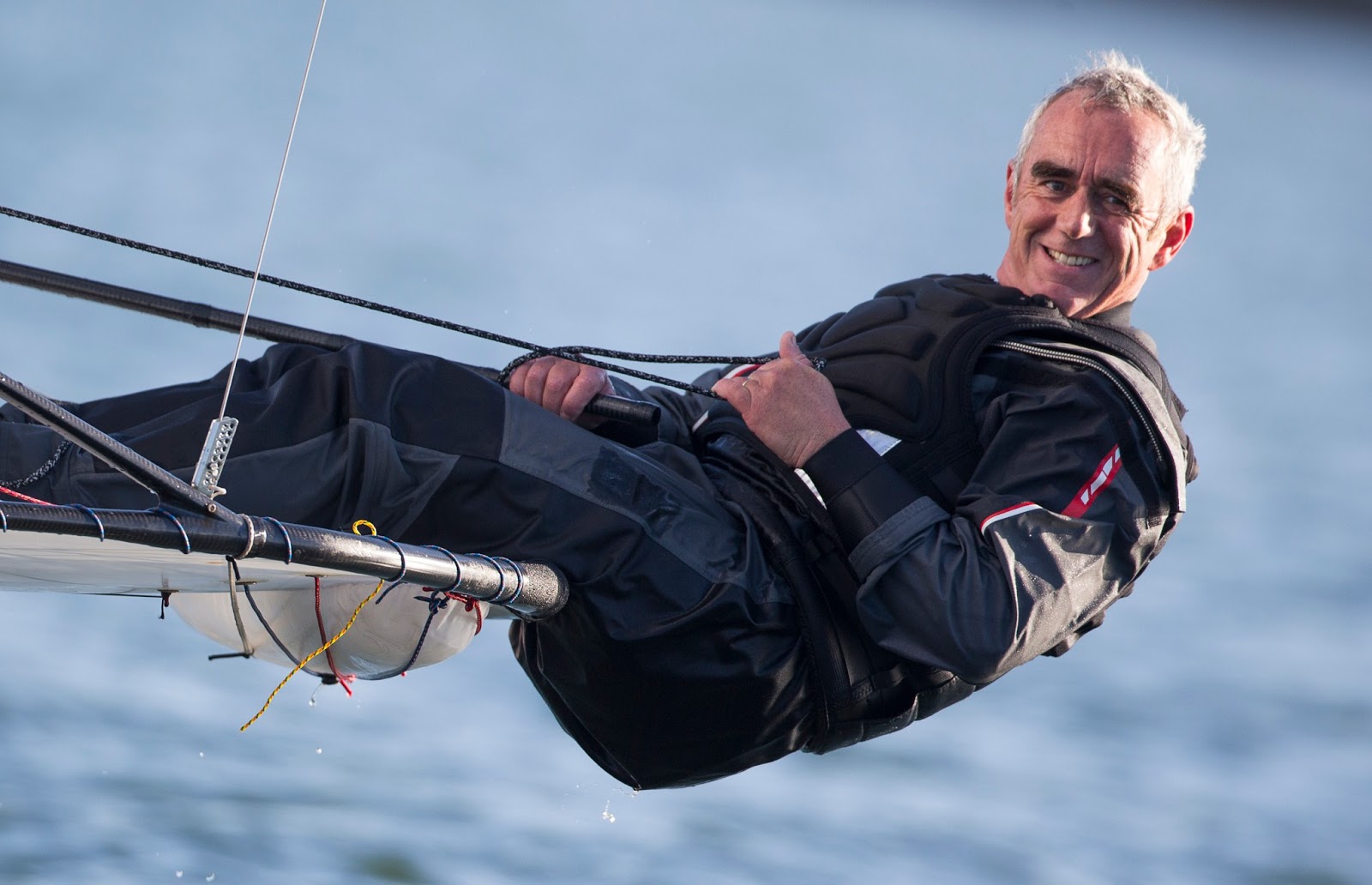 Loïck Peyron: « Tomorrow is always a transition to the future »
He competed in the very first Vendée Globe, steered a cat in the America's Cup, skippered the fastest boat around the world and won the last singlehanded Route du Rhum. No one comes near Loïck Peyron's achievements. Today, he tells Yacht Racing Forum about the America's Cup and his role at Artemis Racing.
Yacht Racing Forum: Loïck Peyron, you just won the Route du Rhum; you were spotted at the foiling Moth in Australia, before joining Artemis Racing' design team… Just how do you do this…?
Loïck Peyron: If you can do one, you can do the others… They all compliment each other. For sure, I am not good everywhere. But I'm trying to not be bad anywhere… I am lucky to be just interested in everything!
Yacht Racing Forum: The latest is your role as a designer at Artemis Racing. Are you a designer? Do you have a technical background?
Loïck Peyron: Oh yes, I have been studying the matter for the past thirty years! But I've never had a single paper. What I have is pragmatic experience. Again, I am interested in everything. I've raced cars, I fly planes and autogyros - and, it is not a secret, I love sailing boats.
Yacht Racing Forum: What do you do, specifically?
Loïck Peyron: I am part of Artemis Design dream team. I currently work on a bit of every areas and occasionally have the chance to sail on the "machine", even sometimes at the helm when Nathan Outteridge is on the 49er. I like to be a kind of multifunctional swiss army knife.
Yacht Racing Forum: Are you like a Formula 1 pilot, who can transform his feelings into meaningful words for engineers?
Loïck Peyron: Yes, precisely, like Schumi in his great years. In France, we've often had to work on small budgets, with small teams but for big projects. Multitasking was the key and this is helpful today. I have always drawn parts - if not entire boats. I designed my first T-shaped rudder in 1988 for a solo transat, and invented the canting rig on big multihull twenty years ago…
Yacht Racing Forum: Artemis Racing has been quite discreet when Oracle announced a change of boat for the next Cup. How did you welcome the news?
Loïck Peyron: It has a been a bit brutal, although we were kind of expecting it. We had done a lot of work on our 62', which will, hopefully, not be useless… Under the leadership of Iain Percy, we were working on our systems, in order to manage our appendages and our wing, and we'll keep doing this, just at a smaller scale.
Yacht Racing Forum: Now about the sailing: will this Cup be only accessible to a new generation of sailors?
Loïck Peyron: Almost. Most of the guys who were sailing the previous Cups on ACC's are now pre-retired on J-Class or super-yachts in Antigua. We've definitely lost the big-sailing-team aspect of the Cup. All you need now is a helmsman, a wing-trimmer and a group of hamsters to pump your hydraulics… maybe it's gone a bit too far: too much muscle and not enough brain, we'll see. But luckily for the white hairs, this game, like many others, needs experience.
Yacht Racing Forum: Are you personally in favor of those changes?
Loïck Peyron: I guess it will be a transition, and I hope it will favor participation. I would personally prefer bigger boats, where the choreography and other unique skills are really important. Hopefully foiling boat speed and "spectacle quality" are not linked to the size. These changes in the Cup had to be done, even if some of them seem painful. We want to offer the best sport show ever, and it will be the case again.