"Life ashore is not so bad!"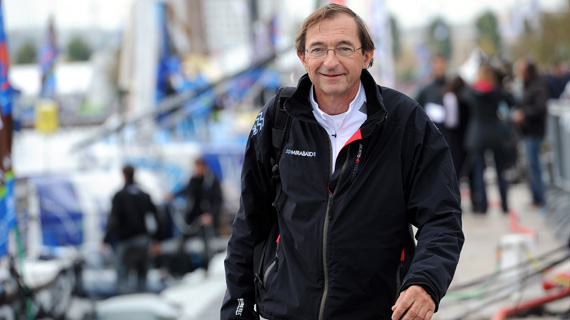 Ashore now for two months, Dominique Wavre can reflect with some objectivity on his Vendée Globe, discuss the present and look to the future.
Dominique, how is life back on dry land?
Dominique Wavre: It is wonderful to be back with my family and friends; I have been able to reacclimatise slowly to life ashore which has been really great.
You finished on 9 February, with some time to reflect, how do you feel about your Vendée Globe?
Dominique: I am very pleased with my result, especially when I see how many failures my fellow competitors suffered on board their boats. I really did benefit from having a perfectly prepared boat to race and am delighted to have avoided any major breakages. I was also very lucky of course given that I fractured a vertebra four days into the race!
What have you been up to since you have been back?
Dominique: I am quite busy but pleasantly so. Michele and I have been doing some work on Mirabaud, trying to get her back into top condition, and I have been doing a lot of conferences and am often in Switzerland.
So is the boat back in perfect condition?
Dominique: No, far from it, a round the world race takes it toll on a boat and we are slowly getting her back in shape. As we are not based in La Rochelle and don't have a full time shore crew it takes time with just the two of us working on it.
Have you taken a holiday since your return?
Dominique: No, we haven't really taken any time off, but we aren't working at a hundred miles an hour either, we are taking things at a nice pace, not a holiday, but not crazy busy. I am not sure when we could have squeezed a holiday in to be honest, between media requests, work on the boat, conferences and planning for the future! In May, Michele and I travel to Montreal for Mirabaud for a conference, and as we were made to feel so welcome during our last visit between the Transat Jacques Vabre and the start of the Vendée Globe, we have decided to stay on for a short holiday to have a look around.
And the future how is that shaping up?
Dominique: Michele and I would love to race the next Barcelona World Race and we have started working on a project with this in mind. It is still early days and I am always very cautious, but I can't deny it would be a wonderful project and we are super keen!
Copyright photo : © Jean-Guy Python/Mirabaud